St.Gregorios College of Health Science
St.Gregorios College of Health Science (Affiliated to Kerala University of Health Science, Thrissur) was established on 2007 as a wing of St.Gregorios Mission Hospital with a view to nurture quality professionals and excels in the field of Medical Laboratory Technology. The college possesses highly qualified faculty to prepare Graduate Technicians. The college has all Facilities to impart high tech education to young MLT students to prepare competent technicians.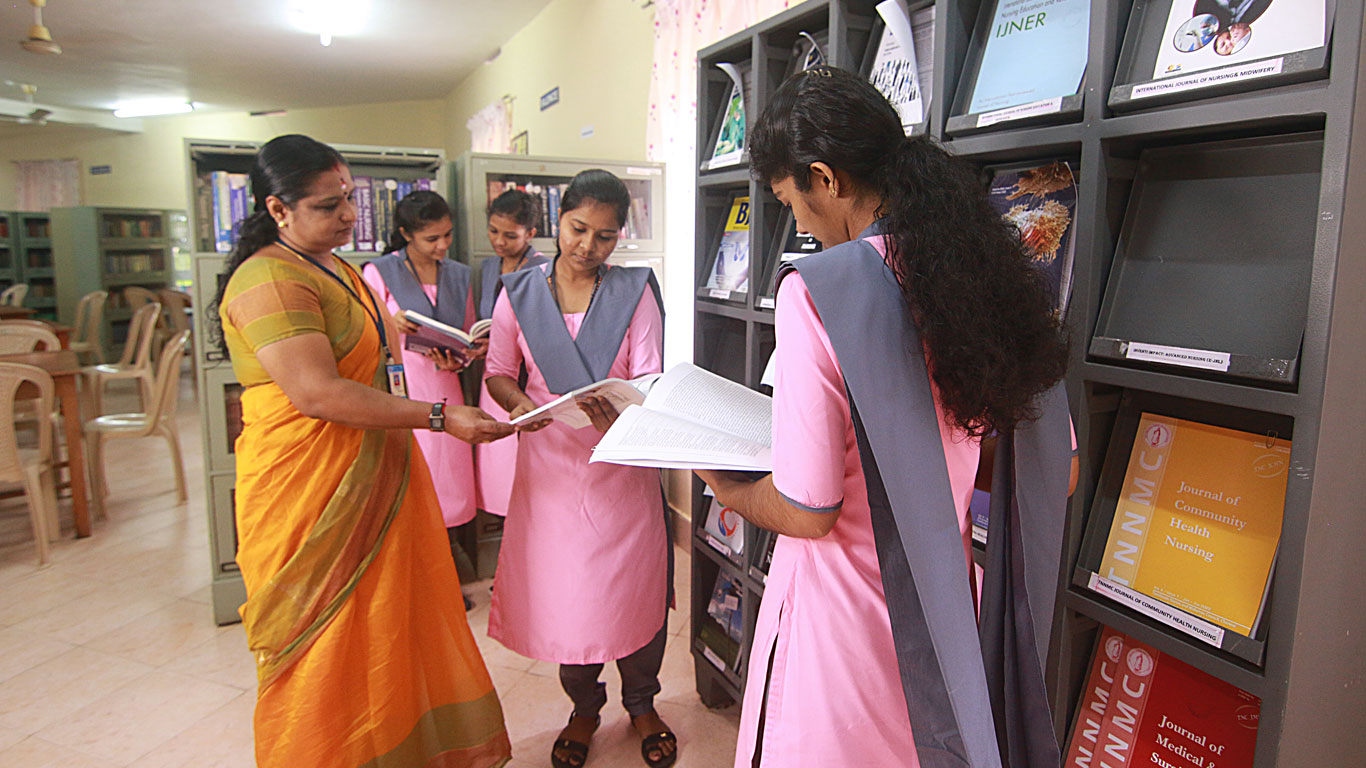 The Department of Social Work is offering a Master of Social Science in Social Work (MSW) with Medical & Psychiatric Specialization and is expecting to start a few more disciplines in the future. The department at present is having its 17th batch with 60 efficient students. The two-year full-time Post Graduate Course in Social Work concentrates on professional training leading to Managerial and Organizational competencies in Medical and Psychiatric social work, upholding our educational promise by delivering quality education through our personal approach to professional preparation and intellectual exploration. The college has got an excellent faculty for professionally grooming the aspirants.
The students are trained in three important components – Theory, Field Work and Research, to plan and execute an extensive range of social services, and social welfare activities, and work in a hospital and other industrial establishments and training institutions. The training programme also includes independent study, lectures, seminars, observation visits, rural exposure camp, study tour, orientation visits, group discussions, case studies, role-plays and concurrent and block fieldwork training.
The Master of Social Work (MSW) Programme is a professional training programme that leads to the professional qualification of a Social Worker. The course work of the Programme aims to provide students with a solid conceptual framework and a theoretical foundation of social work practice. To develop social work knowledge and skills, and to help students cultivate a positive identification with social work values and the ethics of the social work profession are the aims of this Programme. In addition to the academic content, students are required to undertake supervised practice in different social service agencies/communities. This programme equips students with advanced training in knowledge and skills to reflect and
resolve conflicts within themselves and to help disadvantaged groups. Through these academic and training engagements, students are prepared for a career in professional social work.
The curriculum of the Master of Social Work (MSW) Programme is designed to meet the requirements as per the programme's objectives, which is to prepare the students to build a career in Social Work Profession and Development sector. The professional education in social work equips the students to confidently engage in the practices of counselling, group work, and community work, research, policy formulation and analysis, advocacy and social & political interventions. There are a number of promising career opportunities open for these graduates in the areas like Rural and Urban Community Development, Hospital Social Work, Psychiatric Social Work, Industrial Counselling, Family Counselling, Child Welfare, Administration of NGOs, Corporate Social Responsibility, Human Rights, Environment and Disaster Management, Project Preparation & Evaluation and Field level Research Projects.
There are TEN courses in the first and second semesters along with a field practicum. In the third semester, there are two core as well as 3 elective courses each in each specialization group along with a field practicum. In the fourth semester there are two core courses and two elective courses, field practicum apart from project/dissertation. Field Practicum (field education) is an integral part of the training in social work education with the objective of helping the students to develop the skills, attitudes and values and personality characteristics essential for a professional social worker. The students are to be placed in local self-government institutions, welfare agencies, development organizations, community-based organizations for children, youth, women and elderly, hospitals etc. for fieldwork training. The training equips the students to get hands-on training in different areas as well as according to their specialization.
The MSW programme is organized into four semesters with elective (specialization) courses offered in Medical and Psychiatric Social Work (MPSW). The MSW Programme comply with UGC Minimum Standards for the conduct and award of Post Graduate Degrees
i. To facilitate the learners to develop the foundations of social work practice by providing the theoretical input on the philosophy, values, methods, fields and approaches of the human service profession and human resource management.
ii. To sensitize the learners about the contemporary socio-economic and cultural realities through field-based learning and proficiency in helping skills and effective intervention strategies.
iii. To develop a professional approach in addressing human societal needs and become effective and efficient change agents in the social milieu.
iv. To develop an insight into one's professional self and purposive use of the same in professional practice through integral transformative practices.
v. To sharpen the learners' skills in conceptualization, scientific assessment, analysis & interpretation and planning & intervention.
Candidates for admission to the first semester of the MSW programme shall be required to have passed any Degree Examination with a minimum of 45% marks of Mahatma Gandhi University as specified or any other examination of any recognized University or authority accepted by the Academic Council of Mahatma Gandhi University as equivalent thereto.
Application forms and Prospectus can also be obtained from the office of St. Gregorios College of Social Science, Parumala on payment of the prescribed fees (Rs.500/-) on working days.
The medium of instruction and assessment of the MSW programme will be English
The Department of Social Work is having a well-sophisticated library with subject-related books, and journals.
The department has well latest PCs for students and has its own computer with an internet facility.
The department has a placement cell for its final year students to facilitate the identification of job opportunities and absorption of the students into suitable jobs.
Aiming to undertake welfare programs of the college and extension activities like debate, games, cultural programs etc., of the department, the Gregorian Association of Social Workers (GRASP) was started in the year 2007.
The department organizes its annual seminar in the month of March under the auspices of GRASP and the theme of the seminar is related to the trend and practices of Social Work.
Rural Exposure Camp and Study Tour are organized to have various experiences and focused knowledge about various social issues and organizational functions.
The annual day of the department is celebrated in the month of August every year.
Alumni meetings will be held along with the graduation day. The former students of the institution will gather at the college and share their experiences and valuable suggestion related to the profession in order to widen the perception of students on the social work trends.
Hostel facilities for girls and boys are available inside the campus.
Ragging is strictly forbidden in the campus
Monday to Friday (9.00 am to 4.00 pm), Saturday (9.00 am to 12.30 pm)
Total No. of Theory Courses: 19 nos.
Field Practicum: 4 nos.
Dissertation: 1 no.
Comprehensive Viva Voce: 1 no.
Internship (After the completion of the fourth-semester examination)
B.Sc MLT (4 Years)
Eligibility: +2 science group with 50% marks.
No of Seats: 30 (The students are admitted to the courses by Govt. & Self financing Private Management Association.)
Medium of instruction: English
Make the student aware of principle underlying the organization of clinical laboratory.
Able to do routine and special investigation procedure in medical laboratory.
Capable of providing good theoretical and practical education.
Develop knowledge and skill in accordance with the societies demand in medical laboratory technology.
Qualify the student for official approval as medical laboratory technologist.
Operate and maintain all equipment in diagnostic laboratory.
Able to establish and manage clinical or research laboratory.
To develop graduates who are technically proficient, lab-oriented, and well-versed in the key areas of laboratory medicine , medical research, and innovative scientific teaching.
Because we value job placements, the majority of our graduates are employed by our own hospital, making unemployment unimportant.
We are paving the way to our Vision with a dedicated, student-friendly, and knowledgeable faculty team.
We believe that education is about shaping students to be responsible and socially committed citizens, not just teaching them the Syllabus.
We prioritise getting to know our students in person, and each student's individual development is accomplished through a proper mentor-mentee system.
Well equipped laboratories for each department. Library – Contains thousands of medical and paramedical books, National and International journals,
Special emphasis on clinical posting, provided in NABH accredited Clinical Laboratory.
Hostel facility for girls, Computer Lab, Placement Assistance,
Well qualified teachers
How to apply for Management quota
College is making admissions, purely on the basis of merit. Merit was being determined on the basis the marks obtained for the relevant subjects in the qualifying examinations. Admission procedure ensuring transparency through merit based admission on a non-exploitative manner.
Candidates who have passed Higher Secondary examination of the Board of Higher Secondary Education, Kerala, or examinations recognized equivalent thereto, with 50% marks of 12th class in Physics, Chemistry,Biology and English put together are eligible as per KUHS norms The application should be submitted by online through website of SPMA and the address www.spma.in
The applicant should have a valid e-mail id.
Application fee will be UG: Rs. 1000/- The detail of the courses is available in the website as well as prospectus. Application fee and admission processing fee are not refundable.
The applicant is required to remit the prescribed application fee by online payment or Demand Draft and enter the payment details (DD No. & date) in the application form.
The applicant should upload the following documents / or certificates duly attested by a gazetted officer or Head of the Institution last studied while applying online.
Recent passport size colour photographs taken in a white / light coloured back ground. The image should be in JPEG format. Maximum size for photograph 50 KB and image dimension is 120×150 px (4.23 x 5.29 cm)
10th and 12thpass certificate for proof of date of birth of the applicant
Mark list of qualifying examinations.
Transfer Certificate
Eligibility Certificate, Migration Certificate (if applicable)